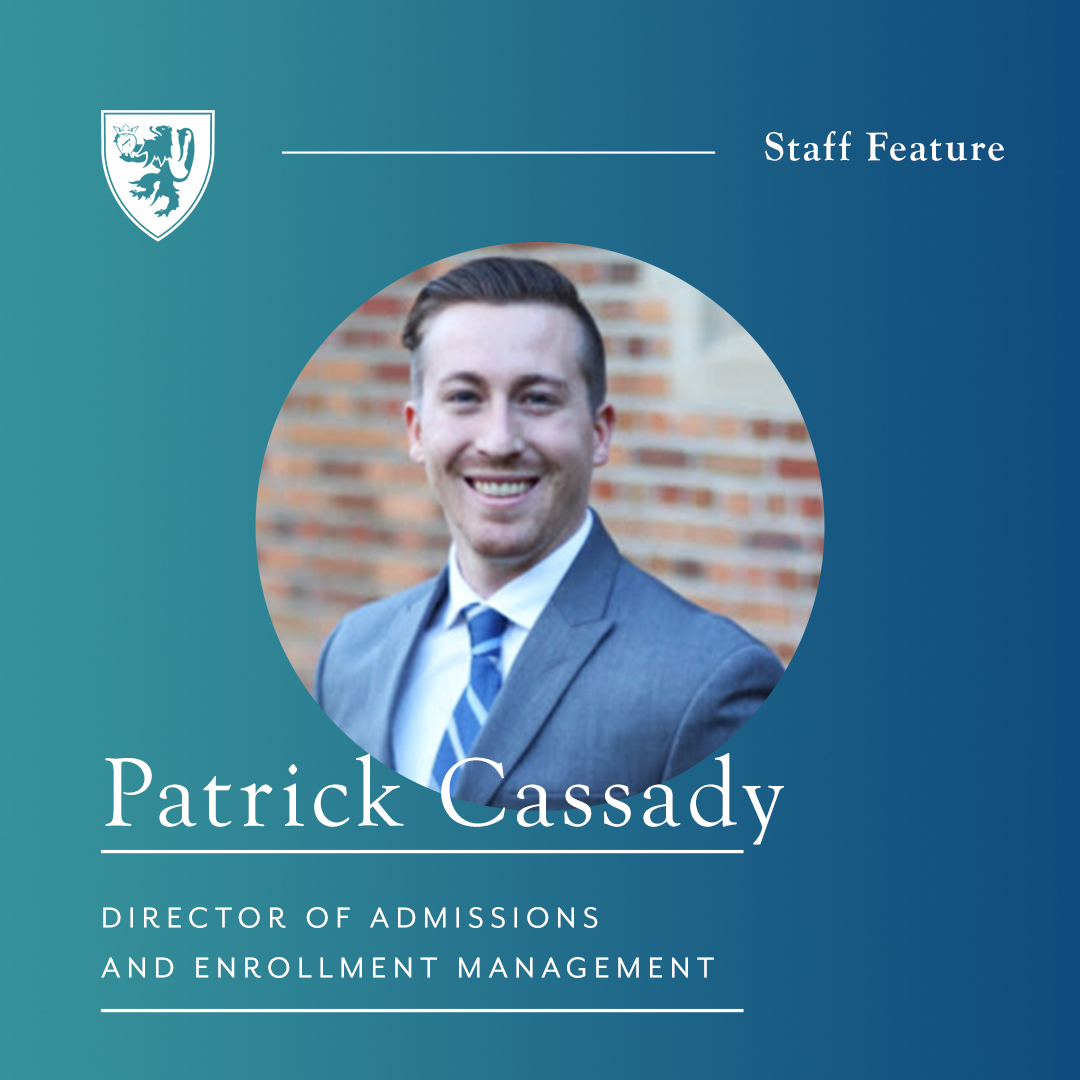 In the midst of this unconventional academic year, Sacred Heart Major Seminary has been blessed to welcome additional faculty members who are dedicated to the continued excellence and formation of current and prospective Sacred Heart students. On the forefront of this mission is Patrick Cassady, new Director of Admissions and Enrollment Management. Learn more about Patrick here, and join the seminary in offering him a warm welcome and praying for his success in his new role.
What drew you to a career in Higher Education?
I was first drawn to a career in higher education as a student admissions ambassador at Oakland University. I loved my time as a student at OU, and I wanted to share that experience with prospective students and their families. As a professional it was always a rewarding experience to see a student on campus thriving in their experience after having interacted with them through their college decision process. 
Why did you decide to come work for Sacred Heart Major Seminary?
I decided to work for Sacred Heart because of the people I have met and the opportunity to combine my career experience with my faith. It has always been a goal of mine to serve the Church more directly. 
What are you most looking forward to as you join the Sacred Heart community?
I am most looking forward to learning more about my colleagues, the students, and the community we serve at Sacred Heart. I always enjoy hearing the stories of others. 
How have your previous experiences, both personally and professionally, prepared you for your new role as Director of Admissions and Enrollment Management?
Personally, I think my desire to serve the Church and listen to prospective students has prepared me for this role. I hope that I can accompany students and situate the seminary as an environment for students to meet their calling and learn more about their faith. Professionally, I have had the opportunity to learn from some of the best admissions and enrollment management professionals during my time at Oakland University. I strive to focus my efforts on being student-centered, and with this opportunity I have the chance to not only be student-centered, but faith-centered, too.
How would you describe the mission of the Office of Admissions at Sacred Heart Major Seminary?
Our mission is to inform students both locally and beyond that Sacred Heart is a place for lay people to learn more about their faith and discern God's calling. Our mission is to accompany students to discern God's calling, offer opportunities for faith enrichment, and the training for lay ecclesial ministry by our internationally recognized faculty through a variety of programs. 
What's something you hope to accomplish in your new role at Sacred Heart?
I think my first goal is to learn as much as I can about Sacred Heart and to embody its mission as my own. I always want to see growth in enrollment of our lay population, while ensuring that I am accompanying students in discerning how Sacred Heart can help them to deepen their faith. I would also like to develop new and innovative ways to generate exposure through the archdiocese and beyond to attract more lay students. 
2019-20 was a challenging academic year, and 2020-21 is looking atypical as well. How are you managing the curveballs the pandemic has thrown at education?
It is important to be flexible and put an emphasis on student-centered practices during the unpredictable and atypical times we are experiencing through the pandemic. 
How do you stay on top of changes and developments in the field of higher education and administration?
I routinely read the Chronicle of Higher Education and try to stay active in regional and national Admissions and Enrollment organizations and associations. The unique challenge is that many times, changes and developments in higher education focus on traditional college environments and traditional student recruitment/enrollment. Sacred Heart and my role give me the opportunity to take that information and translate it into useful information for our institution and our student population so we can best serve them. 
Who has been a significant role model in your life and career so far?
Personally, my parents are my greatest role models. They have always emphasized the importance of faith and serving the Church and others. Education begins in the home and I have been blessed to have been taught first by my parents. Professionally, Emily Stepanian-Bennett who supervised me as a Graduate Assistant at Oakland University early in my career is another significant role model. She always challenged me to think about the big picture and to utilize information to make decisions that serve students. She is a role model I rely on today and hope to imitate as a supervisor.