Years ago, upon finishing my first half-marathon with my legs feeling like jelly I told myself, "There's absolutely no way I can ever run twice this distance!" Several weeks ago however, I crossed the finish line with the same jelly-leg feeling but this time after completing 26.2 miles. I had just finished my first-ever full marathon! And although I've always loved all kinds of physical activity, this was by far one of the most challenging things I've done. From the training to recovery to nutrition to the race day details, these past five months have taken a lot of commitment and involved a lot of learning. And as I reflect on it now, it's so clear to me why the Scriptures often use running imagery and language to speak of the spiritual life; the parallels are undeniable. Without a doubt, running my marathon has shed light on my spiritual life in very concrete ways. Allow me to share just a few.

Humility
Truth be told, this was my second attempt at my first marathon. In 2021, I was training as one of my "before-turning-30-bucket-list" items. Six weeks out from race day, I injured both calf muscles during a training run and that was the end of that. It was discouraging and frustrating to say the least. And yet, there's no doubt in my mind that failing the first time was the best thing that could have happened. Coming face-to-face with my limit made me hungrier for the goal but smarter with the training the second time around. And physically, I came back stronger once I allowed my body to rest and heal. Getting injured truly humbled me and, in the encouraging words of a seasoned-marathoner friend of mine, taught me to "give the training the respect it requires."
In the spiritual life, humility is one of the highest virtues. Why? It makes us more readily able to turn to God in dependence. It's often self-recognition of our weaknesses that opens us up to experience the power of God in our lives. St. Paul knew this by experience, going so far as to write that he gladly boasts of his weaknesses (2 Corinthians 12:9-10). God becomes our strength when we realize that we can't do it on our own. The entire spiritual life is coming to realize that it's all God's grace, and we're merely recipients and cooperators.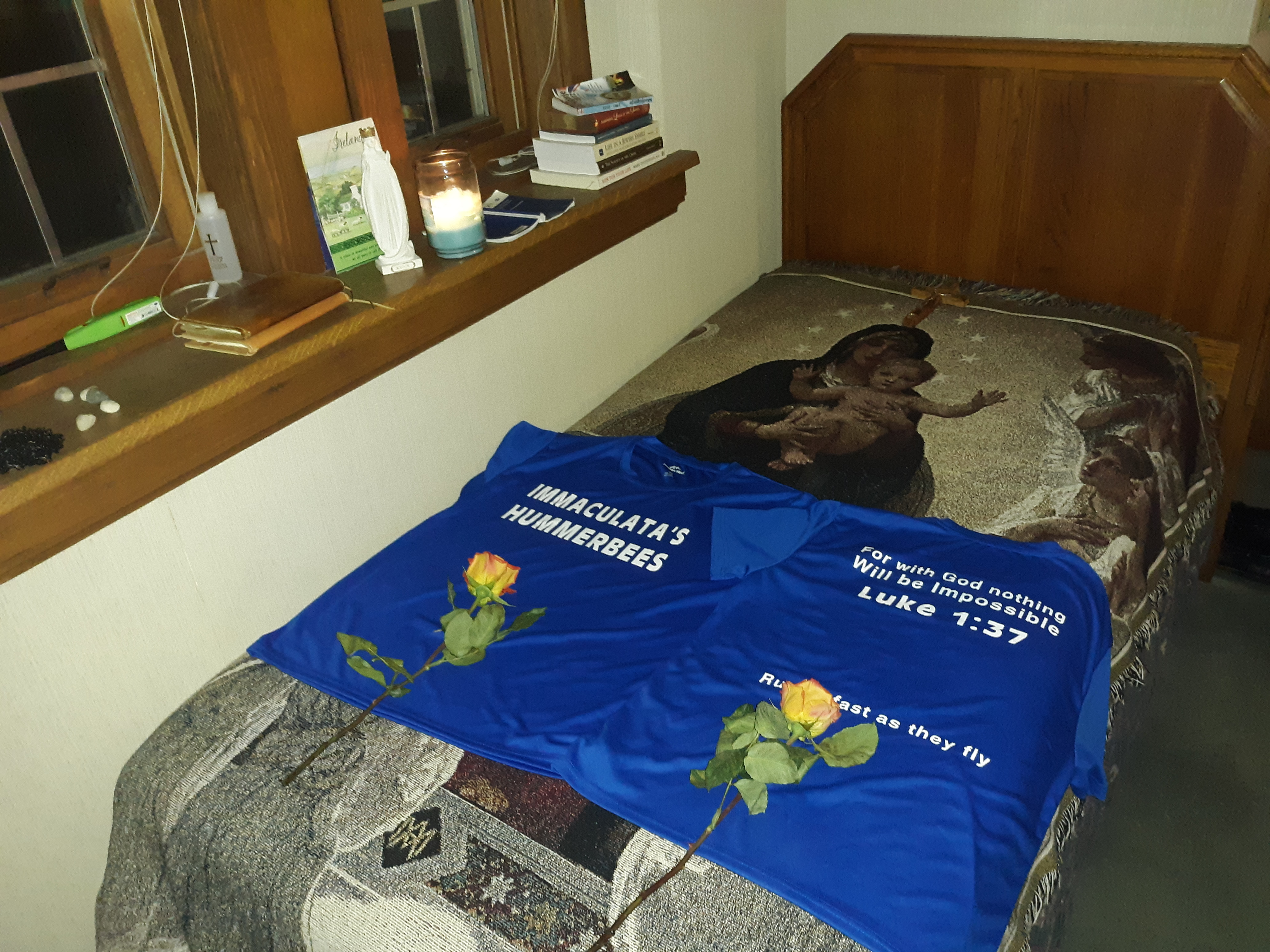 End Goal Mindset
Serious training forced me to constantly have my end goal in mind: completing a marathon. Always being conscious of my goal allowed me to adapt as necessary. I could exercise more discipline in doing the things that would get me there and not doing the things that wouldn't. This meant saying no even to good things like playing other sports I normally enjoy or hanging out late into the night knowing that I had a long training run the following morning. Even on race day, this principle was at work. In the last quarter of the race, I could feel my legs shutting down and I knew that if I wanted to make it to the finish line, I would need to slow down and mix in some walking in the process. Although this was not part of the original plan, I had to adapt with my end goal in mind.
The same principle operates in our spiritual life. Our goal is heaven (Philippians 3:20). And in this life we (ought to) do the things that will lead us there, and avoid the things that won't. Sometimes this is easy and sometimes this is hard, but always being aware of our heavenly destiny, we adapt as necessary to press on toward the goal before us (Philippians 3:14).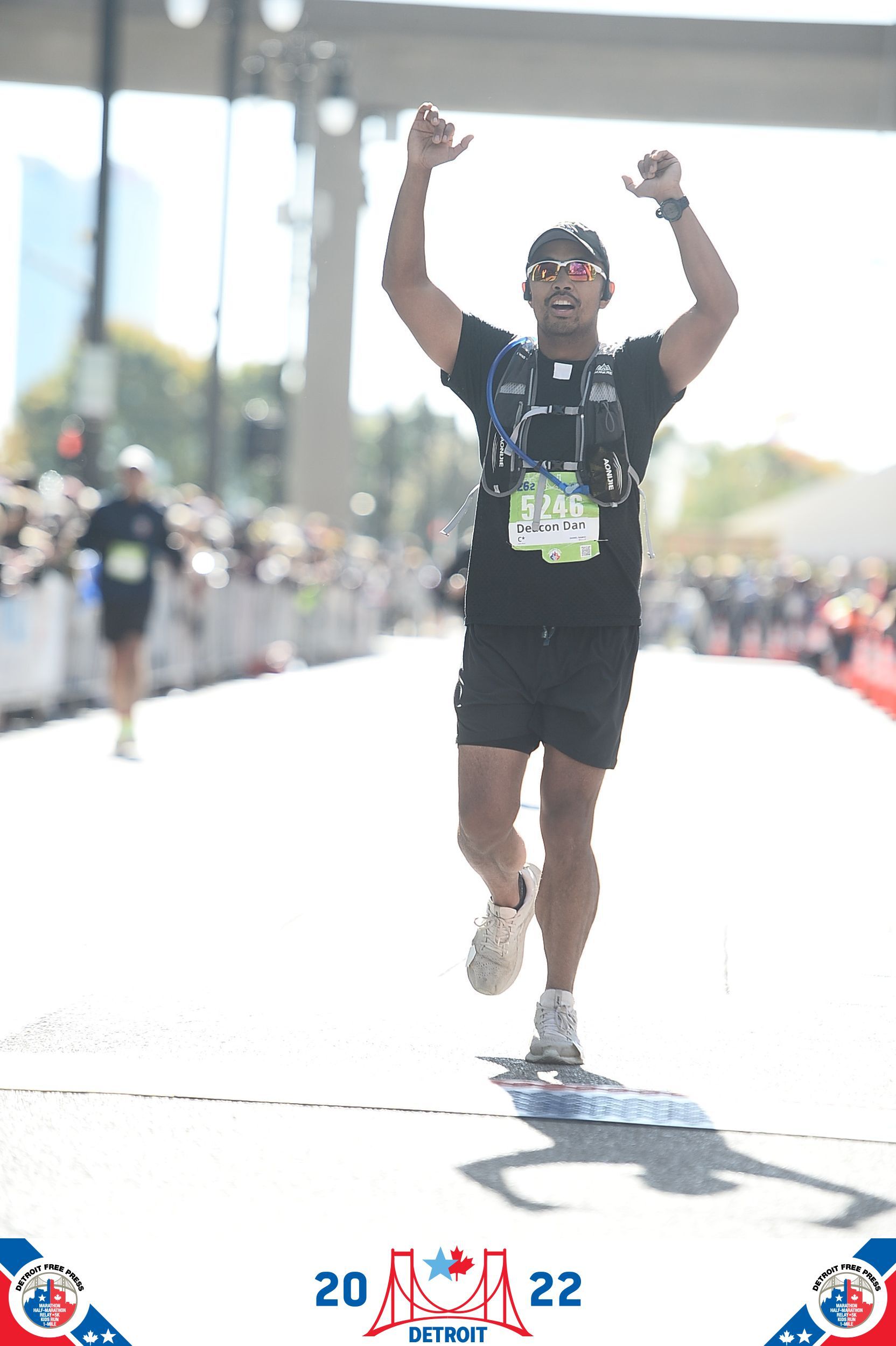 Community
Even though I signed up for this race on my own, the whole way through I was surrounded by an encouraging community. Two of my deacon brothers were also running that weekend and in the weeks leading up to race day we were often checking in on each other, sharing both struggles and tips. It was an encouragement to know that I wasn't doing it alone.
On race day, the whole race route was peppered with encouraging community. People lined the streets, cheering us on even though we were complete strangers to most of them. Fellow runners were extremely encouraging to one another especially when they saw someone slowing down or stopping for a necessary stretch break. More than once, when I felt that my body couldn't go any further, I was able to keep running simply because I was around others who were also struggling and pushing through with me.
By far, the most emotional part of the race was the home stretch and finish line. As I rounded the final corner and faced the last 100 meters, I was met with a cheering crowd of people, applauding us as one by one we crossed the seemingly-elusive finish line. As I crossed, I was met by volunteers who waited with joy for each marathoner: they gave personal congratulations and hung a finisher medal around the neck of each runner. Many of these volunteers were past marathoners themselves, and so they personally knew the hard work and struggle it took to achieve such a goal, as well as the profound joy in crossing that finish line. Making it to the finish line, after wondering for so long if it was even possible, made me quite emotional.
The spiritual life is meant to be lived communally. We affirm, encourage and challenge one another. We struggle together and hold one another up. Jesus called us, not only as individual disciples, but as a community of disciples in the Church, growing in holiness and going out on mission together. And we're all headed for the same finish line — heaven. Our brothers and sisters who have gone before us, the Saints, cheer us on as we follow their steps and pursue our true home (Hebrews 12:1-2). And if crossing the marathon finish line was emotional, then I can't even begin to imagine what it would be like to enter into heaven, with all the Saints meeting us with joy and Jesus himself welcoming us in.
The Letter to the Hebrews says, "Persevere in running the race that lies before us while keeping our eyes fixed on Jesus" (Hebrews 12:1-2). As disciples of Jesus, we persevere in running this race called the Christian life. May we run well, run together, and one day make it across the finish line into our heavenly home.