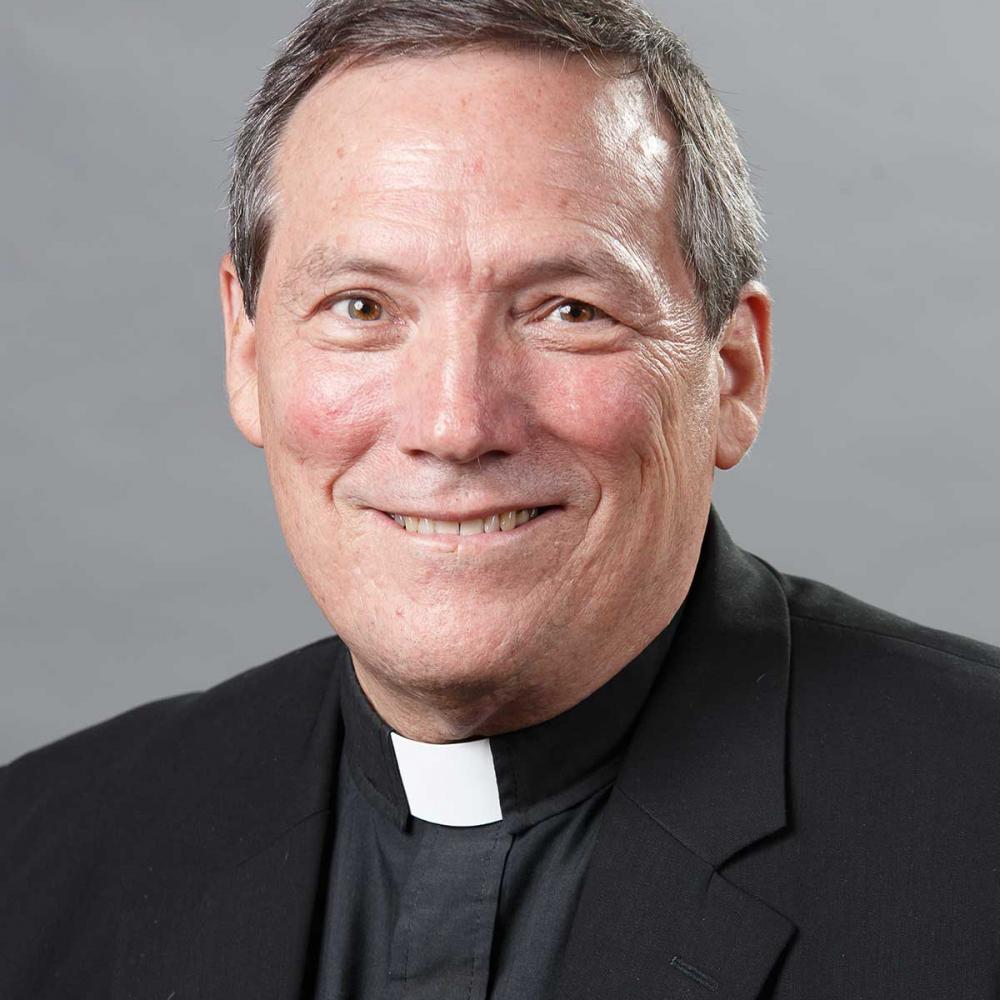 Now finishing his fifth year at Sacred Heart, Fr. Peter Ryan, S.J. has been appointed as the newest Blessed Michael J. McGivney Chair in Life Ethics.

Named for the Knights of Columbus founder, whose beatification was announced last year, the McGivney Chair was established to provide students with an understanding of the range of issues in our culture that threaten the dignity of human life from its inception until natural death — a cause about which Fr. Ryan is especially passionate.
"I'm particularly happy that the McGivney Chair is dedicated to life ethics," says Fr. Ryan. "What could be more important than promoting life? I love the pro-life movement and have been involved in it for decades."
In the early eighties, Fr. Ryan started a student pro-life group at Gonzaga University, which in turn founded a Birthright pregnancy care center in Spokane, Washington. He also served as a faculty moderator to the student pro-life group at Loyola Unversity, Baltimore in the nineties. "My primary pro-life focus since then has been education, and particularly pro-life scholarly work," he says.
A primary example of Fr. Ryan's pro-life scholarly work is his article, "The Value of Life and its Bearing on Three Issues of Medical Ethics," which he has used in class settings to discuss the issues of physician-assisted suicide, abortion of fetuses when the mother's life is not threatened, and the withholding of nutrition and hydration of individuals who can't feed themselves. He also writes often on the subject of eschatology. He's currently writing a book on the concept, to which the McGivney Chair will allow him to dedicate himself more fully.
"The Chair will afford me the opportunity to devote more time to my writing, and I found that prospect tremendously appealing. I have been working on a book on eschatology, but until now, my other responsibilities have made it impossible for me to invest sufficient time in the project," he says. 
"Since moral theology is all about doing the good and eschatology is all about finding the good promised to those who remain faithful, it seems to me they are intrinsically related to each other. I'm delighted that holding the Chair will enable me to devote myself to promoting human life not only here and now, but also in the everlasting kingdom Jesus promises to those who remain faithful."
Fr. Ryan anticipates the impact of the McGivney Chair as a significant one that can educate and address life issues in such a way that defends a proper understanding of the human person and the body as an integral part of humanity.
"The Chair will help me accomplish the projects discussed above," Fr. Ryan says, "which I hope will have a significant impact for the good. But I will need your prayers to support me in that work!
The opportunities provided by the new Chair appointment are, of course, bittersweet, as they will occupy time he currently spends providing spiritual direction. "It has been a privilege to be able to contribute to the intellectual and spiritual formation of future priests. To say that I'm proud of what I have been able to contribute is to say that I'm proud of having been given a gift!"
In addition to his devotion to St. Ignatius, St. Thomas Aquinas, Our Lady, and Jesus' Divine Mercy, Fr. Ryan looks forward to turning to Blessed Michael McGivney for intercession!
Join us in prayerfully congratulating Fr. Ryan in his new appointment!